CNCI  Tauranga
Sunday Service:   10:00am -12:oopm
Address:    110 Levers Road Matua Hall, Tauranga 3110



Let us together study the word of God. Come join us for our Bible Study every First Friday of the Month, from  7:30 – 9:00 pm, at Matua Hall, 110 levers Road, Matua.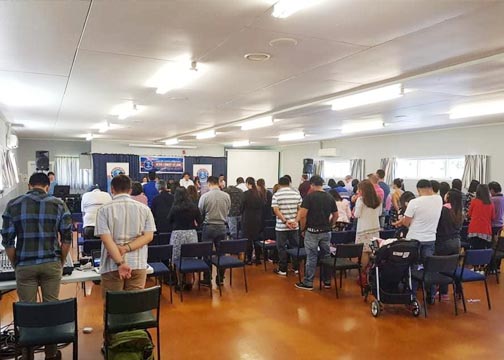 PRAYER MEETINGS
Every Thursday Evening From 8:00PM – 9:00PM
Cell Group BIBLE STUDIES
Every Friday Evening (except for first Friday of the month) From 7:30PM – 9:00PM
Men's FELLOWSHIP
Every 4th Sunday of the Month
Proverbs 27:17

  As iron sharpens iron, 
So a man sharpens the countenance of his friend.
WOMEN'S FELLOWSHIP
Every 4th Sunday of the Month
Join us in our women's fellowship to hear about our role as a sister in Christ.
YOUTH FELLOWSHIP
Every Other Wednesday from 6:30 – 8:30pm
Tauranga - Papamoa Church Members
In Christ… the best is yet to come!
1 Peter 5:10-11
 But may the God of all grace, who called us to His eternal glory by Christ Jesus, after you have suffered a while, perfect, establish, strengthen, and settle you. To Him be the glory and the dominion forever and ever. Amen.
Get In Touch
Whether you have questions, need prayer or just want to reach out to us, we are here for you.
You can call our office, send an email or simply use this form.
We would love to hear from you. God bless you.